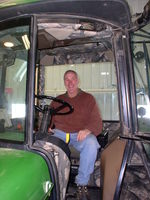 Replacing John Deere Cab Kits does not have to be a nightmare.
You already fix many of the problems on your tractor. In fact you diagnose, repair, and replace problem parts as part of the normal routine around your farm.
With the right tools and a few installation tips you will be more than prepared to install a new cab kit in whatever model you have.
Just ask Jared from Kansas.
"These covers were the easiest to install. They fit flush and look great!"
--Jared, Kansas
---
Follow these three steps to install your new John Deere Cab Kit Interior in no time.
Step 1: Make sure you are ordering the right parts for your tractor. Double check the model #, serial breaks, and descriptions of the parts. Also pay attention to the types of parts, like Economy vs. Standard vs. QWIK FIT.
Our Economy parts are what our competitors sell as their Standard parts. Try us out one time and we will show you we have the highest quality parts in the industry.
Our Standard parts include the highest quality materials and features like wire cut foam backs for easier installation and a better fit.
Our QWIK FIT Tractor Interiors offer the same high quality materials with the convenience of wrinkle-free, re-positionable plastic backing. It is the easiest and quickest way to install a John Deere Cab Kit.
Step 2: Review our Frequently Asked Questions about installing a cab kit. This includes several of the most frequently asked questions about installing a cab kit.
Step 3: Take 5 minutes and read our installation checklist. It has several tips that will save you tons of time and headaches and get you prepared to install your interior quickly, easily, and professionally.