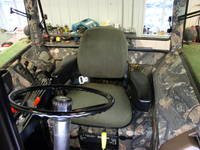 FOR IMMEDIATE RELEASE
(Northwood, Iowa)-- Tractor Interior Upholstery announced the immediate availability of camouflage replacement upholstery kits for a selection of John Deere and International Harvester tractor models. The woodland camouflage pattern upholstery, which meets the company's traditional high standards of quality and safety, and is meant to provide a personalized touch to tractor cabs for hunters and other lovers of the outdoors.
Available in kits of both the standard type and those utilizing the company's unique QWIK FIT system, the new camouflage print, with pictures available at www.tractorinteriors.com, will be extended to kits customized for further tractor models in the near future.
"We've built a reputation for producing the best tractor upholstery and kits in the business," company representative Jim Trainer said, "and these new camouflage kits add a touch of fun to our lineup. Even those who aren't interested themselves may find they make perfect gifts for others." For nearly a decade, Tractor Interior Upholstery has stocked and sold the highest quality upholstery kits, headliners, and acoustical foam for agricultural and other tractors. Like the rest of its products, the company's new camouflage print upholstery meets Federal Motor Vehicle Safety Standard 302, a regulation governing the combustibility of materials which are in close proximity to equipment operators. The material is also treated with UV-blocking stabilizers which will ensure that the camouflage pattern remains vivid even after years in the sun and resists cracking in temperatures as low as -20 Fahrenheit. In addition, the upholstery is designed to provide the maximum possible sound absorption, so that it contributes to a quieter, safer environment for operators.
Like most of the company's upholstery products, the new camouflage print is available in both traditional kits and those of the unique QWIK FIT style. Kits of the latter sort are designed to be as easy as possible to install so that even those without prior upholstering experience can succeed at doing so. Unlike traditional upholstery kits, they don't require any messy adhesive sprays and can be easily removed at a later time if needed for maintenance or other reasons. The company's tight standards ensure that these self-install kits will result in wrinkle-free application, too, removing a potential source of frustration for end users.
"We expect our new camouflage upholstery kits to be a big hit," Trainer continued, "and we plan to expand our offerings of this sort as demand grows. Customers who buy right now can be assured of being among the first to have their tractor cabs decked out with this fun, distinctive pattern." The new camouflage kits are presently available for tractors from the 30, 40, 50, 55, 60 4WD, and 7000 John Deere series, as well as International Harvester 86 and 88 models. Tractor Interior Upholstery plans to extend the offering to kits covering further tractors in the near future, so owners of other models may wish to check back in the near future. The company is currently running a special good for 10% off its QWIK FIT upholstery kits for those who order from www.tractorinteriors.com, as well.
About Tractor Interior Upholstery, LLC:
Founded in 2005, Tractor Interior Upholstery is a leading supplier of upholstery replacement kits and related products for tractors. By keeping closely apprised of the experiences of its customers and suppliers, the company has developed a reputation for innovation in the field, as it has discovered and addressed a number of previously common problems in the field while providing top-quality products to all.
Media Contact:
Jim Trainer
Northwood, IA, 50459
Telephone: 641-390-0321
Email: support@tractorinteriors.com
Website: http://www.tractorinteriors.com