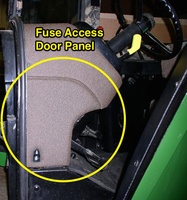 Looking for a Fuse Access Door Panel for a John Deere 55/60 series tractor?
If you have spent any time looking for a fuse panel more than likely you have come up empty. They are no longer available from John Deere. In fact, fuse access door panels for the 55/60 series have been unavailable for the past 6 or 7 years.
You can search in the salvage yard and hope to find one in good condition...
...or better yet, you can now get one brand new.
Benefits of the 55/60 series fuse access door panel
The fuse access door is the same as the oem part. Same material. Same vinyl.
You can easily access you fuse panel without removing the entire cowl kit.
And better yet you don't have to scrounge around in old used equipment to find it.
Now available at TractorInteriors.com, the Fuse Access Door Panel fits the following John Deere models.
4055
4255
4455
4555
4755
4955
4560
4760
4960